Snowballs & Flywheels designs a programme for sustainable behaviour change tailored for your organisation. What happens practically?
Our Flywheel method, in five simple steps
1. Together we identify the right people and right issues to kick-start the desired change.

Identifying the sweet spots
We quickly get to know your organisation and your colleagues. Finding the answers to  'what's in it for…' managers and other employees is key. It sounds too simple, but it's all too often neglected in change processes. Sustainable change takes people's current views, skills and motivation as a starting point. What makes their hearts tick? What are their daily frustrations? We engage the right colleagues for your coalition of change and together identify the 'sweet spots' in a few sessions. These will be fundamental when developing the six challenges, the core of the behaviour change programme.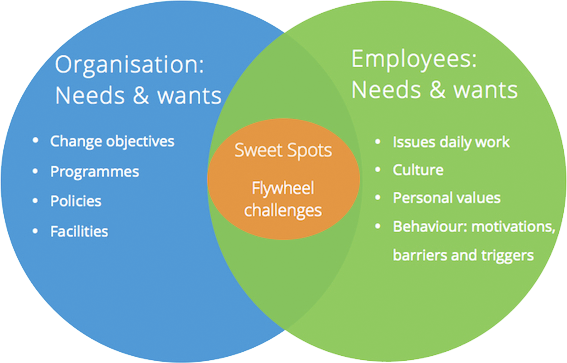 2. We develop an engaging and tailored programme, based on principles of behaviour change.

Challenges tailored to your organisation
In co-creation with you and with internal experts we develop a series of six challenges. We first look at what content already is available internally and fit that in. Touching people's hearts and minds is central to each challenge's design. We use several evidence-based behaviour change methods, as well as gamification mechanics and persuasive design. Simultaneously, we co-design your roll-out plan. We formulate powerful core messages for managers and for other colleagues. During roll-out the trick is to restrict broadcasting and focus on enabling people to get into action and to start the dialogue with their colleagues.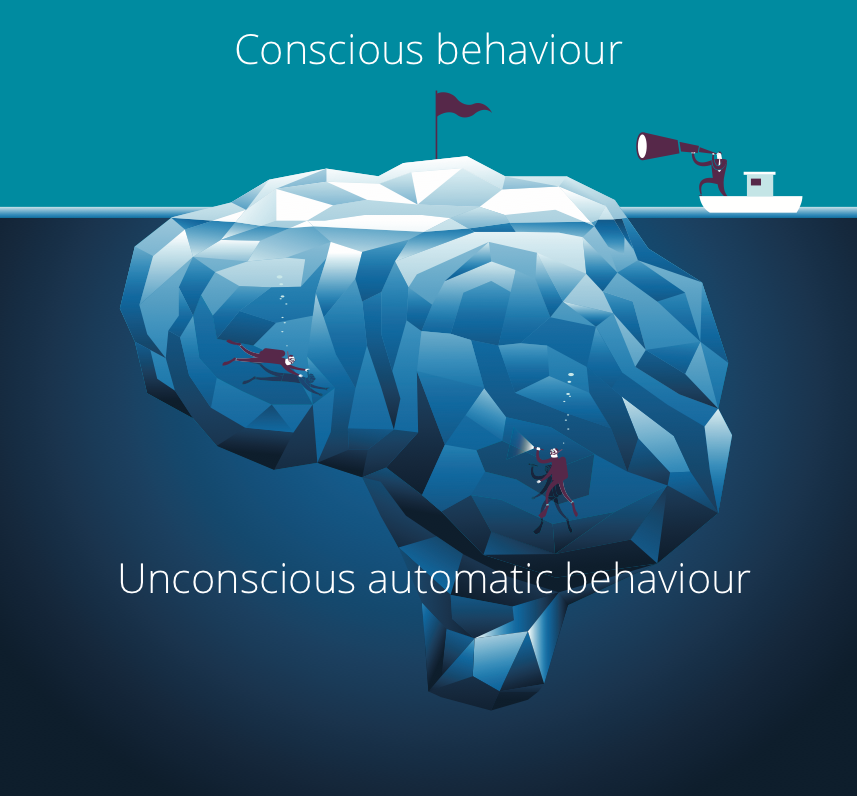 3. For six weeks your colleagues get in gear with inspiring, simple and fun challenges.

Six weeks of workplace buzz
Now it is time for large groups of colleagues to get in gear with six week challenges. First they complete a baseline survey. Every challenge takes them to a quiz or a video, they perform an online assignment and share their opinion or idea with colleagues. Ten minutes per week is sufficient to actively participate. The backbone is our online tool and method that makes learning and changing fun, simple and inspiring. People like to free up time for it, so the results show. Our Flywheel method creates a buzz in the workplace, but above all it helps people to change themselves and their surroundings.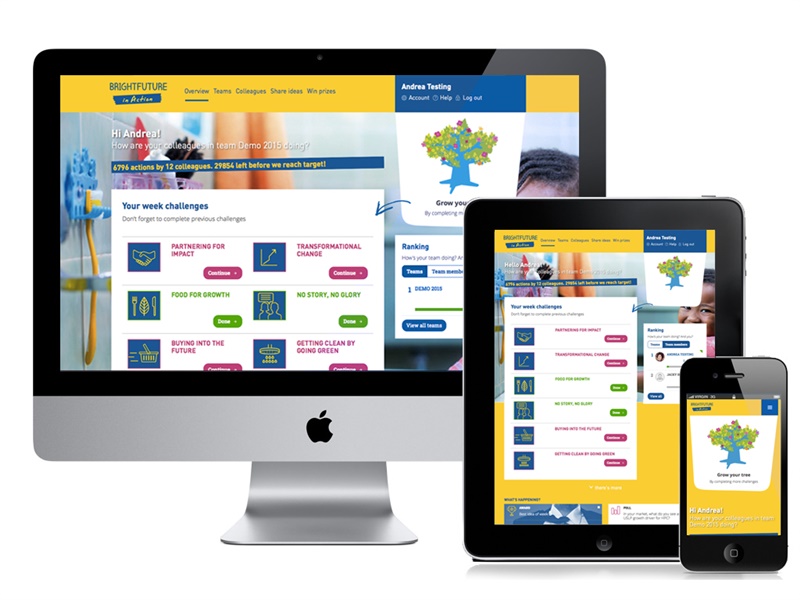 4. Empowered colleagues initiate an unstoppable transformation towards sustainable business.

Success guaranteed.
After six weeks we do a post survey and evaluate. Time and again, the results show that the Flywheel method proves to be a powerful instrument. On average some 80% of invited colleagues actively participate. It changes the mindset, the behaviour and culture within the organisation. It increases KPI scores like integration of sustainability into the business. It also has a positive effect on employee engagement levels and internal and external reputation.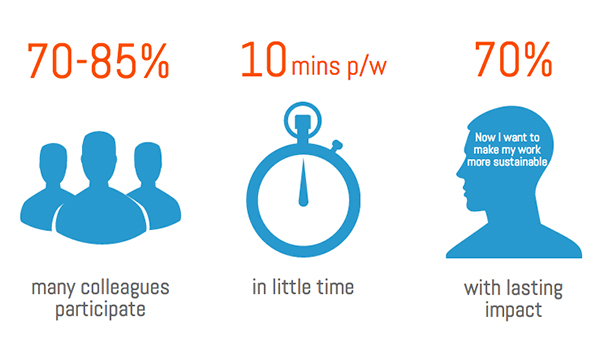 5. Strategic follow-up delivers the largest impact.

Sustainability in your organisation's DNA
The effects of the Flywheel method are powerful and sustainable, especially when they are properly safeguarded in your organisation. We can achieve that by monitoring a proper follow-up on the challenge results. Most ideally this is driven by the colleagues in your coalition of change themselves. Moreover we can achieve this by making the collective results visible to everyone. By identifying the stories of change of employees and their teams, and by selecting a couple of flagship projects that have arisen from your colleagues' contributions.  Depending on the comprehensiveness of the transition, we may also use the follow-up for a second wave of challenges with which we move forward even more.

Interested in our Flywheel method for your organisation? Please contact Egon for more information or to plan a meeting.